Melissa Hebeler / E! Illustration
Welcome to the third installment of E! News' newest weekly feature, What They Watch, a profile of those working in TV and their TV loves and habits both past and present. Leslie Grossman has been everywhere lately, in the best way.She played Meadow Wilton on this season of American Horror Story (until she died, RIP), and also appeared in flashbacks as Eleanor's mom on The Good Place. She has also had guest appearances on Scandal, Speechless, 2 Broke Girls, Modern Family, Faking It, Girlfriend's Guide to Divorce, Grey's Anatomy, What I Like About You, 10 Things I Hate About You, CSI, Charmed, and many more.But perhaps there are two things Grossman is best known and loved for: Her love of all things Real Housewives, and her delightful turn as the iconic Mary Cherry in the 1999 Ryan Murphy series Popular.She's also a huge fan of TV in general, as you're about to find out!
What is your favorite TV show of all time?
This is basically an impossible question to answer. It's like Sophie's Choice for me. After much soul searching I have decided the answer is Laverne and Shirley.What show would you say defined your childhood?
The shows I loved as a kid were The Brady Bunch, Gilligan's Island, What's Happening!!, Who's The Boss, WKRP in Cincinnati, The Love Boat, Fantasy Island, Mork and Mindy, Mister Rogers, Happy Days, The Muppet Show, Family Ties, and Pee-Wee's Playhouse.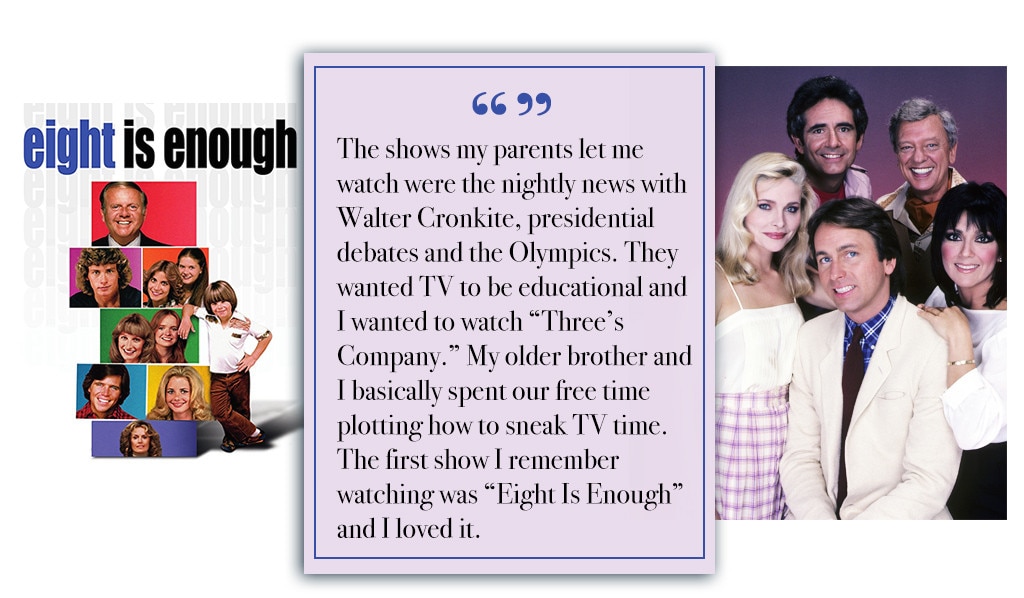 Melissa Hebeler / E! Illustration
What was your relationship with tv growing up? What was the first show you remember watching?
My parents had very strict rules about TV watching. They didn't want me to ever watch it during the week and my weekend TV time was limited. As a result I was OBSESSED with it and would do anything to get TV time. When I went to a friends house I was more interested in watching TV than hanging out with them. The shows my parents let me watch were the nightly news with Walter Cronkite, presidential debates and the Olympics. They wanted TV to be educational and I wanted to watch Three's Company. My older brother and I basically spent our free time plotting how to sneak TV time. The first show I remember watching was Eight Is Enough and I loved it.
What would you say is your coming of age show?
Probably The Facts of Life. I adored that show and never missed an episode. The girls on that show grew up in front of us. I thought it looked like so much fun to get to live with your friends at school with no parents around. The character I related to the most, hands down, was Natalie, played by the fantastic and adorable Mindy Cohen. I really saw so much of myself in her. She was funny and joyful and a great friend. I loved her.What show were all of your friends watching but you felt like I missed out on?
For some unknown reason I never watched Dawson's Creek which makes no sense. I had friends that were so obsessed with it but it just passed me by. I should binge it.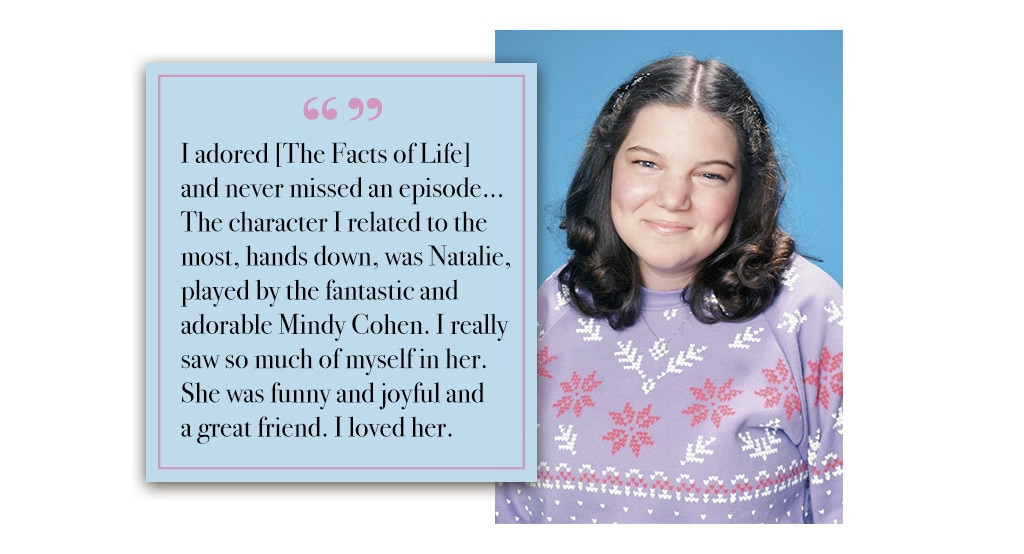 Melissa Hebeler / E! Illustration
What TV death affected you the most?
When Kellie Martin's character Lucy died on ER. I could start crying even thinking about it! Kellie's performance on ER was so wonderful and I was devastated when she was killed.What classic TV show do you wish you could have watched when it originally aired?
The Mary Tyler Moore ShowWhat's an episode of TV you wish you were involved in?
The Thanksgiving episode of Friends where the turkey gets stuck on Monica's head. I am laughing even thinking about it.
What show do you pretend to watch but actually never have?
I am scared to even say this out loud, but I have never seen even one episode of Law and Order. I know this seems impossible because it is basically on every channel all day every day but honest to god I have never seen one second of one episode. People gasp out loud when I tell them. But there are so many episodes now how can I ever catch up?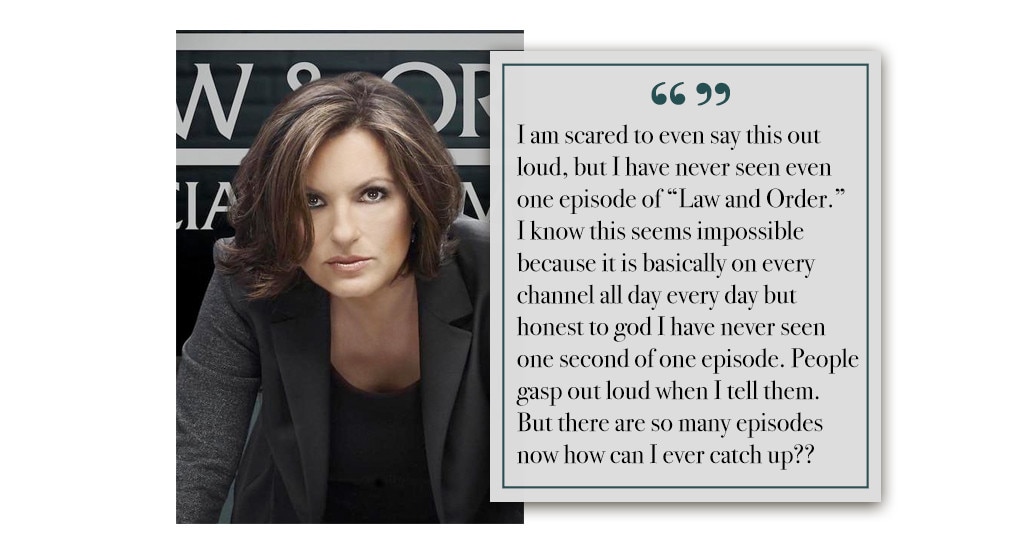 Melissa Hebeler / E! Illustration
What show do you feel like you missed the boat on?
I am ashamed to say I have never seen Breaking Bad which I feel terrible about. I know it is brilliant and I am a huge fan of Bryan Cranston and I don't know why I didn't watch it. Once the first season ended I felt like I had to watch it before the second season started but then I never did and then the series was over and it was all everyone would talk about. Gotta binge that one too.

What shows do you watch now? Do you binge or watch live?

I loved The Handmaid's Tale so so much. I binged it all in a day and then was destroyed for a week. I love The Walking Dead, Westworld, Broad City, American Horror Story (DUH), Will and Grace, The Bachelor, and every single Real Housewives. All of them. I am buying whatever Bravo is selling.
Has any TV show affected your fashion or music choices over the years?
When Sex and the City was airing it profoundly affected the way I saw fashion. I had to have a Fendi Baguette bag. Like, I wasn't going to be able to go on until I got one. In terms of music Girls always got it so right. I would Shazam basically every song in every episode. Their music supervisor always picked the perfect song.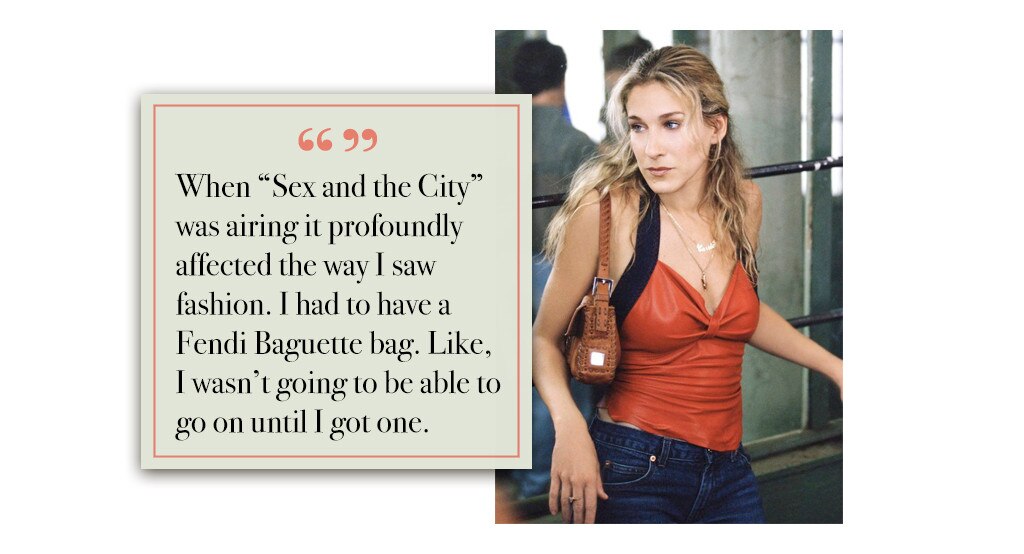 Melissa Hebeler / E! Illustration
How has tv affected your relationships? Do you have friends or connections with people because of your TV shows?
When I was in college I planned my schedule around All My Children and my friend and I met every day in my dorm room at 1 p.m. to watch together. I also watched 90210 with a group of about 20 people in the common TV room. I love the way a show can mean so much to a group of friends. A huge group of my girlfriends got together to watch the finales of Sex and the City and Friends and Seinfeld and I love that camaraderie. When you meet someone and find out you both love the same TV show it's such a good bond.
What shows do you watch with other people and what shows do you watch alone?
Between kids and spouses and work it's hard to get together with friends to watch shows. My friends and I make it a point to get together to watch awards shows. We order in dinner and let the kids run wild while we watch. My husband loves to watch golf (BORING) and I love the Housewives so we are not super compatible when it comes to watching TV together. But when we do find a show we can watch together it's so fun. We were obsessed with The People v. O.J.: American Crime Story and watched every episode together.
American Horror Story: Cult airs Tuesdays at 10 p.m. on FX.